Welcome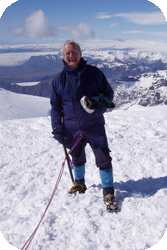 Welcome to Roger Crofts' web site. I hope that you will find the information posted useful and the ideas stimulating in your work.
Most of the material is the section on Articles, Papers and Speeches. You will also find details of my past and current activity and web links to the organisations I am closely engaged with.
If you wish to contact me, go to the Contact section.
Good searching, Roger
Professor Roger Crofts CBE FRSE FRSGS FRGS FRCGS FCIEEM Hon DSc BA MLitt PGCE
News
The late Her Majesty The Queen: An amazing life - Sept 2022
Interview for Royal Scottish Geographical Society - Oct 2021
Opinion on current issues
Climate change and geoconservation paper - Nov 2022
Listen to talk on More trees indeed but where and how? - Oct 2022
Stop the swings of the pendulum to help the environment - Sept 2022
Glen Affric landscape better protection needed - July 2022
Glenkens Land Use the community should lead - May 2022
The challenges after FCCC COP26 - Jan 2022
Musselburgh Flood Scheme Paper - Nov 2021
Esk Valley Action Plan Paper - Nov 2021
Talks on offer:
Conflict on the coast
The World's Special Natural places
Scotland's land: successes and failures, challenges and solutions
Esk Valley: working with nature for a better future
Do you know Scotland's Earth History?
A field working civil servant
Forging Iceland's future
Current Titles
Geoconservation Futures Papers
Watson Bird Centre Walk and Art Trail
Report on Geoconservation in Protected Areas
Duddingston: its story in 50 objects
Fair Isles & Fine Sailing - Celebrating Sixty Years of Cruising - The National Trust for Scotland
Healing the Land: the story of land reclamation and soil conservation in Iceland. Soil Conservation Service of Iceland, Gunnarsholt, Iceland
Co-Editor - Ecosystems and Health: A UK Perspective from The Sibthorp Trust. Distributed by NHBS
Editor - Climate Change Action After Copenhagen and Cancún: What Next? Published by the Sibthorp Trust
Co-author - Land of Mountain and Flood: the Geology of Scotland, published by Birlinn, April 2007, reprinted in hardback 2017
Co-Editor - Conserving nature: Scotland and the wider world™ essays to commemorate J Morton Boyd, published by John Donald, December 2005
Updated Jan 2023 by Tony Pearce | ©2023 Roger Crofts | Designed by Fraser Hood